Sports Live! brings you a realtime scoreboard for your favorite teams.
INCLUDED SPORTS:
+ Baseball
+ Basketball
+ Football
+ Hockey
+ Euro Football
+ UK Football
This application is only available in English. More Solutions, LLC is not affiliated with any sport organizations, including Major League Baseball MLB, National Football League NFL, National Basketball Association NBA, National Hockey League NHL, English Premier League, Scottish Premier League and Euro soccer clubs.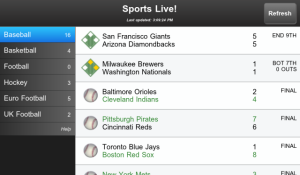 App Name:Sports Live!
App Version:0.6.3
App Size:3783 KB
Cost:US$9.99 USD
Filed Under: Sports & Recreation Tags: English Premier League, LLC Previous Post: Rack Em
Next Post: Marquette GameTracker Mobile