Stumpy The World Cup 2011 A Free BlackBerry App provides the Live World Cup 2011 Cricket with Statistics.
The Key Features
Live Scores
Match Results with Recent Upcoming Matches
Points Table
Schedules
Statistics World Cup
Statistics ODI
Venues
ODI Ranking
Player Profiles
Stumpy The World Cup 2011: is a Handy and Fast App to Get Live Scores Statistics at your finger tips and make sure an enjoyable cricket season for you! By Team Mary Martin Software Services.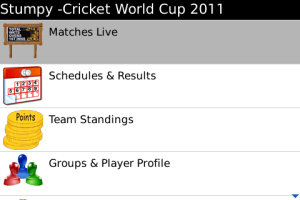 App Name:Stumpy – The World Cup 2011
App Version:1.0.0
App Size:4553 KB
Cost:FREE
Filed Under: Sports & Recreation Previous Post: Lions Inside Slant
Next Post: GSP for Non Touch Devices