InterType is a software application which allows you to enter text in languages not readily available as keyboard layouts for your BlackBerry such as Russian, Greek, Turkish, Ukrainian, Bulgarian and others. Please make sure to visit the InterType home page for important information about the features and limitations of InterType for BlackBerry!
The Ukrainian keyboard extension for BlackBerry offers the following layouts:
~ Ukrainian Standard Layout: Cyrillic letters that could not fit on the standard keyboard were mapped to various symbols from the BlackBerry keyboard;
~ Ukrainian Phonetic Layout: Same as the above, but with phonetic layout;
~ Ukrainian Phonetic Layout with multitap for SureType keyboards: Optimized for use on BlackBerry devices with SureType keyboards, such as the 8100 series.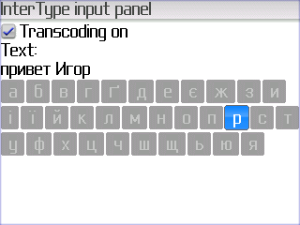 App Name:InterType for BlackBerry Ukrainian keyboard
App Version:1.2.0
App Size:38 KB
Cost:US$14.99 USD
Filed Under: Travel and Weather Tags: Ukrainian Phonetic Layout Previous Post: Polish Dialogs
Next Post: Rome Metro