Plan your next motorcycle trips with the Motorcycle Trip Checklist and you wont forget anything important. Pack all your motorcycle essentials, camping equipment, clothing etc.
With our Checklists youll never forget anything anymore. Get things done, save time and nerves, be prepared for everything!
Features:
Create your very own individual lists
Save multiple different lists
Choose from our suggested list entries and add your own entries
See your progress immediately with the background bar
Compare your progress of different saved lists in the My Lists menu
Create your own categories, you can even have identical entries in different categories
Easy and quick access to your last used lists via the start screen
Change name and category of existing entries
Name your individual lists
This app requires an SDCard. We strongly recommend using original SDcards by SanDisk since others might be a lot slower.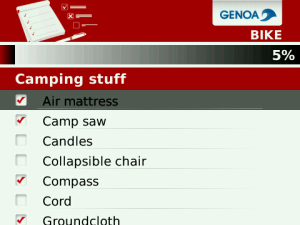 App Name:Motorcycle Trip Checklist
App Version:1.0.356
App Size:317 KB
Cost:US$1.99 USD
Filed Under: Travel and Weather Tags: Motorcycle Trip Checklist Previous Post: London City Guide
Next Post: SA SMS Booking