Prevent accidental Deletion or unauthorized viewing of sensitive documents on BlackBerry.
AppLock allows you to password protect specific application, emails and folders on BlackBerry without locking down the entire device! For ex, you can prevent accidental or unauthorized reading of private Emails, SMS and viewing of files, pictures, videos etc while leaving the device available to other usage like Phone or Internet Browsing.
Lock Native as well as 3rd Party applications.
Lock full Messages app or Emails from important persons only.
Protect selected media folders on your SD Card.
Intelligent Operation Auto Lock on BackLight Off Phone Lock.
Constant Protection Mode for maximum security.
We would also like to invite you to try our other apps. Some of them that you will love are : Empower Threaded SMS, Secure Photo, Battery Saver, Call Notes, SMS Counter, Lock Facebook for BlackBerry, Voice Reminder and Lock for BlackBerry Messenger. You can find them in BlackBerry AppWorld by searching on vendor name Ajani Infotech.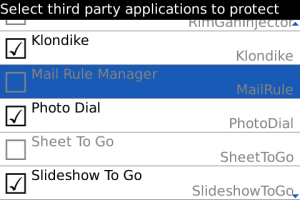 App Name:AppLock Pro
App Version:2.82.0
App Size:246 KB
Cost:US$0.99 USD
Filed Under: Utilities Apps Tags: Ajani Infotech, Constant Protection Mode, Lock Native, Voice Reminder Previous Post: Signal Booster – Radio Signal Enhancing Tool
Next Post: Memory Monster – memory utility 6-pack with Memory Recycler