Powered by Certified Tracking Solutions
AutoConnects mapping dashboard interface is part of a World Class end to end GPS fleet management solution. The power behind AutoConnects web based and mobile Smartphone dashboards is how they are cross compatible with the entire line of AutoConnects industry leading GPS tracking hardware. AutoConnect offers multiple series of hardware to connect to your App, ranging from Consumer Vehicle Connectivity to enterprise level Fleet Management. Below are just some of the GPS series offered by AutoConnect and utilized with this AutoConect GPS mobile dashboard App.
Consumer Vehicle Messaging GPS Tracking:
Use your Smartphone to start your remote car starter or to unlock your doors. Even instantly locate your vehicle via the Google Maps.
Advanced FleetReplay GPS Tracking:
This series includes some of the most comprehensive fleet management product lines available on the market today and is perfect for fleet managers looking to see their fleet updating live on the map. See every turn, every stop, the location of idling and excessive speeding.
DealerSecure Lease Series:
The DealerSecure series by AutoConnect is an excellent program for automotive dealers in need of tracking or even disabling a vehicle that is over due on their lease payments.
Self Powered SP GPS Tracking Series:
This truly remarkable series of hardware runs off of 4 AA off the self batteries and is excellent for remotely monitoring asset ranging from a boat or personal watercraft to a piece of construction equipment or even cargo containers.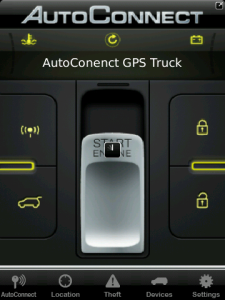 App Name:AutoConnect GPS
App Version:1.0.31
App Size:407 KB
Cost:FREE
Filed Under: Utilities Apps Tags: Consumer Vehicle Connectivity, Fleet Management, Google Maps, GPS Previous Post: SMS Blocker Text Blocker – Block Unwanted Text Message SMS – Indosat Promotion
Next Post: Free Device Memory