Billable activity tracking for your phone. As a business professional, stay informed of your mobile activity with an automatic daily or weekly report of your phone, email and SMS work.
This app is invaluable for professionals who bill for their time such as lawyers, accountants, engineers, consultants. BlackTrack automatically logs all phone, email and SMS activity without any intrusive popups, timers or call tagging interruptions and then automatically sends your log as an attachment via your phones email. If you have to do a timesheet or an activity report, this is the simplest and most practical way to capture all your mobile activity.
The BlackTrack log is emailed as an attachment and is available in formats such as; Word, Excel, CSV or XML. You can open this attachment on your computer and use the information for your billing or timesheet systems. Simply use your phone as usual and let BlackTrack automatically send you your log. The software uses your phone to log, compile and deliver the reports, so it is as secure as your phone.
Reduce your frustration and improve your timesheet and billing. Download BlackTrack to capture all your mobile activity with zero effort.
FEATURES
Automatic Activity Tracking
Requires no user input to track mobile activity
No PopUps or call tagging
Mobile Activity Report
Includes:
Date time
Duration of call/email
Notes/Details
Automatic reporting
Emailed automatically
Choose between .DOC, .XLS, .CSV or .HTML formats
Optional PC Connectivity with timeaid timesheet
Archive mobile activity logs on your PC
Advanced reporting options
No syncing required
Customer Support Available
Unlimited Email Support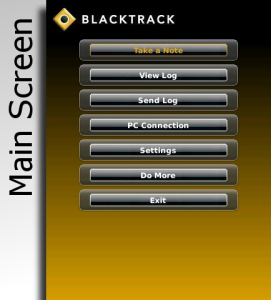 App Name:BlackTrack Free
App Version:7.0.2
App Size:202 KB
Cost:FREE
Filed Under: Utilities Apps Tags: Automatic Activity Tracking, CSV, DOC, SMS Previous Post: Tarot de Marseille
Next Post: My SingTel Account