Block Calls will block all unwanted incoming calls on your phone. You can maintain a black list of numbers that will never ring. When a caller on blacklist calls you, he will get his call immediately rejected. You can add members to your black list in two different ways:
By selecting from the address book
By typing in the number of the unwanted caller
Never get disturbed by an unwanted caller or obnoxious marketer. Add these unwanted callers numbers to your blacklist and forget it. You can also enable or disable the blacklist blocking service in case you want to ring all calls.
How to Configure
After downloading and installing the application, run it from the menu. You will find the application icon typically in your Downloads folder. Start application by selecting the icon and enter the registration key sent to you in the email. Add a few numbers to the black list and enable the service.
Frequent Problems
On a very few handsets, the application requires you to restart the phone by turning it off, pulling the battery and putting it back in. In case your app doesnt work correctly, try restarting the phone by above battery pull method and make sure this app has all the permissions granted. To do that, go to Options Applications Block Calls Select Allow for all three types of permissions.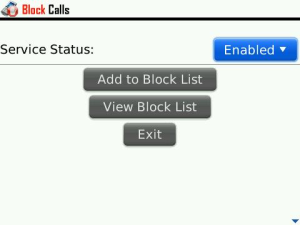 App Name:Block Calls Pro
App Version:2.0.2
App Size:75 KB
Cost:US$3.99 USD
Filed Under: Utilities Apps Tags: Frequent Problems Previous Post: Hoiio Phone
Next Post: ICE Alerts