Note: Permission must be set to ALLOW in the OptionsApplications for OS5 or OptionsDevicesApplication Management for OS6 for Blockem
Blockem will block any phone number, block callers with private or unknown caller id. Blockem has Pickup and Hangup feature which do not allow the caller to leave a voice mail.
You can also select the phone number to block from the CallLog, Messages and AddressBook applications.
With the Advanced Blocking feature enabled your BlackBerry will not make any sounds when the caller is blocked.
Blockem does not block text messages.
Features
Block any phone number
Block unknown or private callers
With Advanced Blocking enabled your BlackBerry will not make any sounds
Block wildcard. eg: 1800 will block all calls starting with 1800
Pickup and Hangup. Do not allow caller to leave you a voice mail
Quick block marketing callers: eg: 1800, 1866, 1877 and 1888 callers
Match last digits in the number. This feature is useful for International users where you can tell Blockem to match on the last 310 digits in the phone number
Adjust the blocking and hangup delay time for better results
Integrate with CallLog, Messages and AddressBook apps. Block caller directly in these apps Due to a bug on some of the BBOS you can not block from the CallLog, the work around is to use the Messages app or log all calls in Blockem and block from there
Enable Do Not Disturb for specific period from 30mins to 8 hours. Only caller with type ALLOW will be able to call you when DND is enabled
Save all incoming calls to the logfile.
Export and Import filters for backup or when you upgrade OS
Easy to configure and to use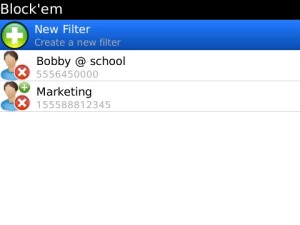 App Name:Blockem – Call Blocking
App Version:1.0.0
App Size:86 KB
Cost:FREE
Filed Under: Utilities Apps Tags: ALLOW, BBOS, Blockem Blockem, Features Block Previous Post: Navatalk Dialer
Next Post: SmartCalling