Make really cheap international calls on your mobile with FooCall free credit!
SPECIAL OFFER Add credit to your FooCall account and well DOUBLE it for FREE!
Valid for 7 days from signup, one per user
SO SIMPLE…
SAVE up to 98% on your international calls
NO hidden costs, no contracts
FREE call credit to get you started
FOOCALL IS NOT A VOIP APP…
FooCall works by calling a local phone number and automatically connecting it to your international destination.
Your local call could be FREE if you have inclusive minutes from your mobile network, so all you pay are our incredibly low international call rates!
NO NEED TO BE IN A WIFI AREA…
You do not use your phones data connection to make a call, so call reliability is great. However, you will need a data connection when using parts of the app.
TRAVELLING ABROAD?
FooCall is not a roaming solution so if you use your mobile phone abroad you will still pay roaming charges.
WE WANT YOUR HELP!
FooCall for Blackberry is in Beta. If you have any problems, or just have a question or idea, please do not hesitate to get in touch. We want to hear from you.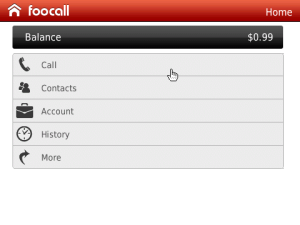 App Name:Cheap International Calls – FooCall
App Version:1.0.0
App Size:2274 KB
Cost:FREE
Filed Under: Utilities Apps Tags: DOUBLE, FREE, NO, SAVE Previous Post: WiFiOn
Next Post: SafeTexting AR