CipherConnect Pro is a COMtokey utility designed ONLY for CipherLab cordless scanners to work as an input device for the BlackBerry phone, enabling intensive data collection via Bluetooth Serial Port connection.
1. Turn on the scanner, and wait until the LED indicator becomes flashing blue.
2. Set the output interface as BT SPP Slave.
3. Specify the PIN code for authentication.
4. The scanner is active at poweron for two minutes by default, waiting for a connection request from the mobile device. Follow the instructions below for Connection and Configuration on the mobile device.
2.0.0: support buffer transmit
Note:
1. Weve tested on many devices, but we encourage you to try free LITE version to ensure its compatibility.
2. The mobile platform must be BlackBerry 5.x; the 1660 firmware must be version 1.33 or later.
3. You may use a preset PIN code with the scanner. Yet, dynamic input of PIN is also supported. Refer to a separate scanner user guide for complete settings.
4. CipherConnect Pro is now FREE with limited support!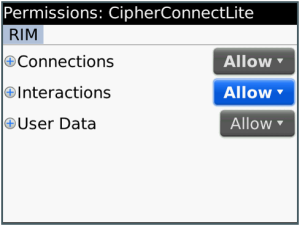 App Name:CipherConnect Pro
App Version:2.0.0
App Size:53 KB
Cost:FREE
Filed Under: Utilities Apps Tags: Bluetooth Serial Port, LED, LITE, PIN Previous Post: SWINEL
Next Post: MetroCard TopUp