Cisco GIST allows you to measure your connection speeds over your cellular provider based on your location and network access speed at the time of a test. Whether you re a diehard BlackBerry fanatic or a recent BlackBerry inductee, this new application from Cisco will help you quickly understand the gist of what your phone is capable of at any given time. This application will also enable you to compare your cellular speeds with other BlackBerry users around the world.
Speed tests are performed by downloading a known quantity of data from a server nearest to your location. Cisco GIST is now hosted on the Akamai EdgePlatorm, a network of over 48,000 secure servers worldwide. This allows Cisco GIST to provide more accurate speed test results wherever you are in the worldwide network.
NOTE:
To Cisco GIST users: Due to recent updates on the RIM platform, our current app no longer supports the Torch device BlackBerry 9800. We intend to update the Cisco GIST application for Torch compatibility with a nearterm revision of our app. We appreciate your patience and support.
The Cisco GIST Team.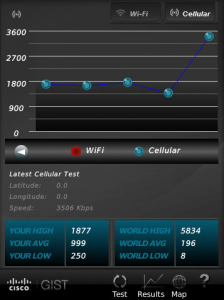 App Name:Cisco Global Internet Speed Test GIST
App Version:2.0.6
App Size:859 KB
Cost:FREE
Filed Under: Utilities Apps Tags: RIM Previous Post: MenuFo FREE
Next Post: Tedut Sys