Full Feature 10 day trial version. Instantly send prewritten SMS or emails, including your GPS location, by clicking one to four times on your BlackBerry buttons. You can also assign keystrokes to launch any app. You can assign up to 14 different actions.
Alone with someone you dont trust? Send a personalized email or SMS to your loved one asking them to check up on you by clicking on a button 4 times.
Stuck in traffic? Multiclick your chosen button to send a text saying Traffic slow On my way home and include your GPS location. You dont even have to look at the phone CommandClick will vibrate or chirp to confirm your clicks.
Going to the bar? Set up a text Get me out of this to get your friend to rescue you from boring guys or gals you can text without looking at your phone.
Send an email to yourself, with map location, to help you pinpoint locations of interest in a new city or the parts of your sales route.
All with a few button clicks and without looking at your phone!
UP TO 14 KEY CLICK ACTIONS WITHOUT LOOKING
Assign up to four actions to each Convenience Key. Start any app by single, double, triple or fourclicking. Assign up to 2 actions to the Escape, End, and Mute key. CommandClick will optionally vibrate and/or chirp one to four times to confirm your command.
SEND PREWRITTEN EMAILS OR TEXTS, WITH OR WITHOUT YOUR CURRENT LOCATION
Compose a text or email to up to two people in advance. Choose whether to include your current location. When you click the key, the message is sent!
EASY TO SEE WHAT ACTION IS ASSIGNED
Each key and key click and the action it will take is shown on a single screen for easy reference.
EASY TO CHECK WHAT ACTIONS YOUVE EXECUTED
CommandClick has a status screen showing you the last clicks you have made so you can confirm your commands were executed.
Note: you can know whether CommandClick executed the command, but this is no guarantee that a message will be received at its destination in a timely manner.
MORE INFORMATION
Is available at http://highglacier.com.
QUICK START GUIDE
Note: When your BlackBerry asks for permissions to run this app, enter ALLOW, and select Dont ask me this again if the option is presented.
1. Your BlackBerry will ask for some permissions right after installation.
2. When starting CommandClick for the first time, the application may also ask for permissions.
3. Open CommandClick, and scroll down to view the available keys.
4. Select a key from the list. On the next screen, choose whether to start an application or to send a message. You may wish to Confirm your keyclicks with Tone and/or Vibrate. The Vibrate action vibrates for a short time while Tone will sound one to four times depending on the number of keyclicks.
5. Save your key and try it out!
If youre having trouble getting the App to work:
a Ensure that youve given the App the permissions it needs. Start it up if it displays a message asking for correct permissions, and you dont know how to do this, please contact us for assistance.
b Assuming permissions are correct, reboot your phone by pulling the battery, or holding ALT, Rightcaps, and DEL at that same time. Rebooting your phone will take 12 minutes it is not the same as turning it off and on.
NOTES:
For BlackBerry Convenience keys, you must go to Options/Keyboard and select none for the action of the Convenience key. CommandClick cant use a Convenience key if it is being used by the BlackBerry OS.
CommandClick Trial is free to use for 10 days. You may then upgrade to the full version, or uninstall.
The Trial and Paid versions are separate apps. To locate the Paid version, search for CommandClick and you will see both the Trial and Paid versions.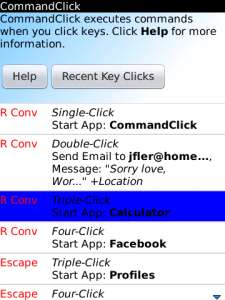 App Name:CommandClick Trial
App Version:1.1.2
App Size:85 KB
Cost:FREE
Filed Under: Utilities Apps Tags: Convenience Key, GPS, Options Keyboard, SMS Previous Post: PassGen
Next Post: ezConvert