With Convert To you can convert almost all your files! Convert files to Archives, Audio, Documents, Ebooks, Images or Videos!
The converting will be accomplished by uploading your file to the cloud where it will be converted. Afterwards it will be downloaded back to your phone. While the file is being uploaded, processed and downloaded you can continue using your phone as normal.
videos: convert to 3G2, 3GP, AVI, FLV, Matroska MKV, Quicktime MOV, MP4, MPEG2 , OGG, WebM VP8, WMV. Documents: convert to Word, Flash, HTML, OpenOffice, PDF, Text
audio: convert to AAC, AIFF, FLAC, M4A, MP3, OGG, WAV, WMA
ebooks: Convert to ePub, FB2, LIT, LRF, MOBI, PDB, PDF, TCR
images: Convert to BMP, EPS, GIF, EXR, ICO, JPEG, PNG, SVG, TGA, TIFF, WBMP, WEBP
archives: Convert to 7Z, TAR BZ2, TAR GZ, ZIP
Other features:
Use the built in BlackBerry file browser to select a file
Use our built in file browser popup to select a file
Use the camera function to take a picture and convert it
Send the converted file by email
Open the converted file if a viewer is installed on your device. The app itself wont view the converted files.
A progress log shows the upload and download status
When finished choose to delete the source and/or converted file
Extra features for file types:
for video: depending on the selected format you can change the size width and height, quality, video bitrate, audio quality, frame rate, or trim to a specific part of the video
for audio: depending on the file type you want to convert to you can change: bitrate, frequency, channels mono, stereo, normalize or trim to a specific part of the audio
for ebook: depending on the selected format you can change the Ebook title, Author, Add a border, Select the encoding, enable ASCII ouput or select the ebook type: Kindle, Kindle DX, Apple iPad, Sony, Sony 300, Sony 900, Sony Landscape, MS Reader, Mobipocket, Hanlin V3, Hanlin V5, Cybook 3, Cybook Opus, iLiad, IrexDR1000, IrexDR800, jetBook, Kobo, Nook, Nook color, Bambook, Tablet
for images: depending on the selected format you can change the quality, size width and height, apply filters and/or color effects
for documents: convert Word 2007, docx, xlsx, pptx, new formats are supported! You can, for example, convert these to PDF.
Note, we might not be able to convert the following files:
Password protected files secured pdf, etc
DRM protected files audio, video, etc
Files bigger than 100 mb
When you buy the application you should get a registration code from App World which you can use to register the application with. In case you did not get it, lost it or forgot the code you can get it at icecoldapps.com . Register the application by starting it, press the blackberry menu button and click the register menu item.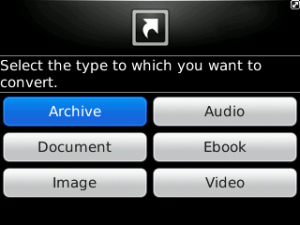 App Name:Convert To
App Version:2.0.0
App Size:166 KB
Cost:US$9.99 USD
Filed Under: Utilities Apps Tags: AIFF, AVI, OGG, PDF Previous Post: screenON
Next Post: Cool Tip Calculator Style 9670