Have you installed, or tried to install crown molding but just couldnt get the corners to meet up correctly? Or did you get it right, but it took a lot of time and wasted material? If so, this Crown Molding app is for you!
For DoItYourselfers and Professionals alike, the Crown Molding application can be used to calculate the miter and bevel angles to use with a miter saw when cutting crown molding for installation. No more guessing or wasted material. Get it right the first time!
Easytounderstand illustrations are displayed to assist the user in placing the piece of crown molding on the saw to reduce the chances of mistakes and wasted product.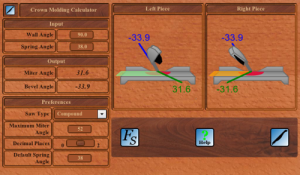 App Name:Crown Molding
App Version:1.1.0
App Size:1136 KB
Cost:US$0.99 USD
Filed Under: Utilities Apps Tags: Crown Molding Previous Post: BlackTrack Full Version
Next Post: URL Shortener