Finally an application that lets you track your data usage on your BlackBerry. This app will save you money!
See the data you are using hourly, daily, weekly, monthy and even on a yearly basis!
Setup your custom logs to manage your data consumption.
Customize the billing cycle and data limits to your own personal plan and set notifications that alert you on how much data you have used.
Compare the data you use while connected to 3G, GPRS and over WiFi. Even track the data used while roaming to save hundreds of dollars in data roaming charges.
See your daily data limit, and use Data Monitor to effectively use your BlackBerry and never have the dreaded bill shock again!
Not compatible with CDMA BlackBerrys.
The application you have been waiting for! Download now and master your data usage with the only Data Monitor for BlackBerry.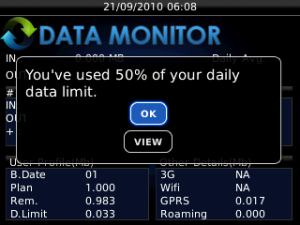 App Name:Data Monitor
App Version:1.81.0
App Size:191 KB
Cost:US$2.99 USD
Filed Under: Utilities Apps Tags: Data Monitor, GPRS Previous Post: Simpla Calc
Next Post: Hong Kong Useful Numbers