Notes: The DDNotes is a replacement application for the MemoPad native. The first step when you need to select a location for storing to save the note after you starts application. The application requires you must have a memory card on your device. DDNotes is available for OS 5.0 or higher.
DDNotes create and manage notes based on Date.
The application gives you 2 methods to create a new note:
+ Type the name of note click trackpad/ Enter Yes.
+ Press Menu key select New Note. Then type in the Name field press Menu key Save/ press Escape select Save.
Set password to protect your notes.
Import notes from Memo Pad and all off text files in memory device or memory card, export notes to text files.
Instant searching by typing keywords
Insert symbol into notes.
Send your Notes to your friends via SMS, email.
Shortcut key: ALT + SPACE: switch typing language from English Vietnam, Vietnam English.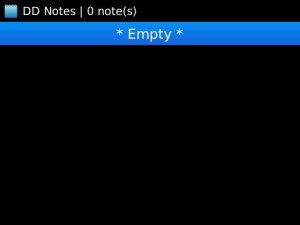 App Name:DDNotes
App Version:1.1.7
App Size:215 KB
Cost:US$0.99 USD
Filed Under: Utilities Apps Tags: English Vietnam, Enter Yes, New Note, Vietnam English Previous Post: Date in menu
Next Post: Defer Send