NOT FREE, BUT USERS SAY HOTFIX WORTH THE PRICE
BEST APP FOR SCHEDULING DEVICE RESTART
appsFX LIFETIME SATISFACTION GUARANTEE
~ Customer Satisfaction is Our 1 Priority ~
RESET YOUR BLACKBERRY WITHOUT PULLING YOUR BATTERY
With HotFIX, you can reset your Smartphone without pulling
the battery using a soft restart feature provided by HotFIX.
Lets face it, if you are a BlackBerry user, then you know
about pulling the battery in order to restart your
Smartphone. Whether this is to refresh and make valuable
resources available or simply to improve your Smartphone
performance, youve been forced to pull the battery to
restart the device. Pulling the BlackBerry back cover,
touching a battery without discharging static first, as well
as other potentially damaging actions are all reasons why
HotFIX should be the single most important app you own.
HotFIX lets you proactively reset your Smartphone at
anytime of the day or night by using the built in scheduling
options so it doesnt interfere with your active day. However,
HotFIX also provides you the flexibility to reboot your
Smartphone at any time you feel its necessary to improve
your performance. When your memory is low, HotFIX can
also notify you by triggering an alert to let you know that
a restart is highly recommended.
Application Features:
User friendly Option Dialog Menu
Easytouse scheduling for automated shutdown
Conditional shutdown based on your requirements
Qualified conditional shutdowns due to nonstandard
memory usage
Inactivity timer for idle condition shutdown
»» Supported on OS 4.3.0 and above
»» Supported on OS 5.0.0 and above
»» Supported on OS 6.0.0 and above
»» Supported on OS 7.0.0
»» Architected to Deploy and Manage via BlackBerry BES
For Corporate Deployment Information contact appsFX
And check out our full portfolio of products, all use the
same easytouse look and feel control panel system for
simple installation and deployment. All apps are backed
with the same high level of support and service.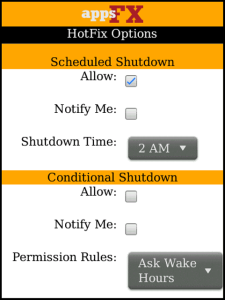 App Name:HotFix
App Version:1.106.0
App Size:915 KB
Cost:US$4.99 USD
Filed Under: Utilities Apps Tags: Customer Satisfaction, Option Dialog Menu, OS Previous Post: Maxis Translator
Next Post: Hourly Chime and Speaking Clock