Most Attractive, Efficient, Useful tool to hide your private and secret Images.. Hide all Gallery Files and Folders Images! Userfriendly, Advanced and feature rich App for your BlackBerry phone..
Advance Features :
Hide multiple images at single time, there is no need to hide images one by one
Hide your images with help of Short keys eg. MMark, AMark All, HHide etc.
Such Images are completely Invisible to others
Access to Hidden Images is Password Protected
Option to Ask Password Every Time for maximum security
App will auto start, when phone is switched ON for better protection
Open only root directory containing Images eg. Among store, SD card and Phone Memory, if images are in SD card it will display SD card only
Display total number of images in each directory eg. 42 images in SD card, 12 images in Phone etc.
Display only folders containing images, on selecting folder view eg. there are 4 folders A, B, C, D and only A D contains Images, then it will show only two folders A D with number of Images
Also display total number of images in each folder eg. folder A 17 images, folder D 20 images etc.
Supports .png .jpg, .gif, .jpeg, .bmp, .jpe, .tif, .tiff image types
See all hidden images in menu Hidden files in Application itself
Best, Most Advanced, Efficient, yet easy to use..
Compatibility :
BlackBerry OS 4.5 or later
Pearl, Curve, Bold, Storm, Torch, Tour etc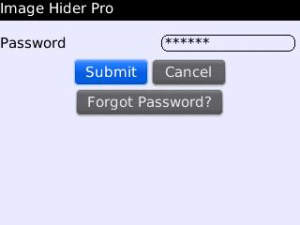 App Name:Image Hider Pro
App Version:3.1.0
App Size:569 KB
Cost:US$4.99 USD
Filed Under: Utilities Apps Tags: Image Hider Pro, Password Protected, Phone Memory, SD Previous Post: Panic Multi-function Safety Button for BlackBerry
Next Post: JDC Mobile