Intelligent Lap Timer Pro allows you to count time, record lap times and save results. This lap timer displays and analyzes lap times in tabular and graphic forms, evaluating the average, minimum, and maximum lap times. The data can be saved in your Email for later access and longterm records. These unique features differentiate this lap timer from physical and other virtual ones.
This app is particularly useful for timingrelated performance measurements and instant analysis of leisure and professional activities in areas such as sports, games, educational evaluations, technical trainings, broadcasting, and manufacturing.
The time interval is displayed in the format of Hour:Minute:Second.Fractional Second, where the last digit corresponds to 10 milliseconds. If there are less than 180 data points, they will be displayed on the graph when the lap timer is stopped.
This lap timer also displays current day, date, and time, allowing you to access all timing information within a single view.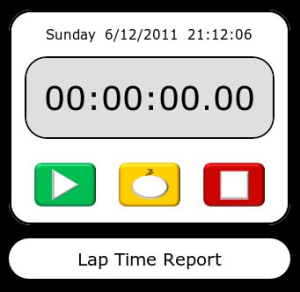 App Name:Intelligent Lap Timer Pro
App Version:1.6.7
App Size:91 KB
Cost:US$1.99 USD
Filed Under: Utilities Apps Tags: Fractional Second, Hour Minute Second Previous Post: ConvertDateToLong
Next Post: New Car Checklist