Free, fully functional 7day trial version of mCall Manager.
Whats mCall Manager?
Its phone call screening software for BlackBerry Smartphone. Its automatically reject call at very fast speed, divert the rejected call, send SMS to the rejected caller, and report BlackBerrys call log.
How it works and how fast is it?
mCall Manager recognizes unwanted call by using call filter rule. It has 6 rules and 14 difference rules can be mixed up: Accept all, Reject all, Blacklist, White list, Accept Address Book only, Reject Address Book.
When unwanted call is being rejected by mCall Manager, your BlackBerry Smartphone will not ring, not vibrate or even the phone screen will not show up.
A more elegant call blocking software.
Not only to reject unwanted calls mCall Manager also records call log to the software itself, delete a call log from the BlackBerrys Call Log, send personalized message to the caller, send a call log to predefined number, and forward the caller to predefined number.
These are some feature has in mCall Manager:
Automatic Backup
Backup to microSD card and BDM
Divert Rejected Call to Custom Phone Number
Flip Over to Reject Phone Call
Password Protection
Create many call filter profiles as you need
Pick up and hang up on the caller, mute the ringer, or send them to voicemail
Advanced profile scheduler allows automated profile changing
Reject even while locked, holstered or call waiting
Forward call log to SMS number
Send SMS to rejected callers any message you want
Ondevice transfer and manage license
Localized menu; English, Italian, &20013;&25991;, Español, &3616;&3634;&3625;&3634;&3652;&3607;&3618;, Deutsch, Indonesian, French
Accept AddressBook only/ Reject AddressBook
Accept Whitelist/ Reject Blacklist
Reject or Accept private, unknown numbers
Reject or Accept specific BlackBerry groups
Reject or Accept any area codes or match last
Temporay blocks a specified number for 1 hour in 1 click
BlackBerrylike call log and log full details of blocked calls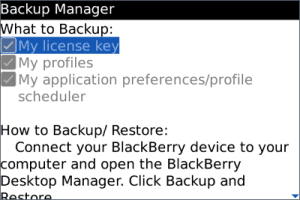 App Name:mCall Manager PRO
App Version:3.0.120
App Size:256 KB
Cost:US$15.99 USD
Filed Under: Utilities Apps Tags: Automatic Backup, BDM, Reject Address Book, SMS Previous Post: Merry Christmas
Next Post: Moose Watch