MemoryUp Personal is a free mobile RAM monitoring boosting application specially designed for smartphone users. It can keep your smartphone running faster and efficiently, and increase your smartphone performance by freeing more memory available for both applications and the mobile system.
MemoryUp Personal is the lite edition of MemoryUp Pro 20092011 Championship Award Best Phone Tool . This handy RAM Booster takes a oneclick approach. It makes more free memory available for your mobile system, accelerates memory responsiveness, and keeps your smartphone running fast and smoothly. Meantime, MemoryUp Personal is also a free mobile software and one of the best free BlackBerry applications on MobiHand and CNET Download.
MemoryUp Personal is optimized for all series of BlackBerry RIM OS. It can monitor your mobile system in the background and free system resources when needed. It uses many advanced features to keep your BlackBerry running at optimum speed. More importantly, its designed with all users in mind, whether youre an experienced user or a novice, MemoryUp Personal will give you the features you want without confusing or limiting you.
Product Features:
Realtime Mobile Memory Status Report Monitor
MemoryUp Personal gives you a professional and easytoread status report on your smartphones memory usage. A live chart demonstrates your mobile systems total available memory and current memory usage, which allows you to monitor how well your smartphone is performing, and whether your system is overloaded or not.
Oneclick Quick Boosting
In addition to monitoring and reclaiming your phones memory automatically, it also allows you to boost your memory manually. By using the Quickboosting feature, you can watch how it makes more memory available for your system. Meantime, Quickboosting will smartly remember the settings that work best for your smartphone.
Fully optimized for BlackBerry OS 3.X, 4.X, 5.0 and 6.0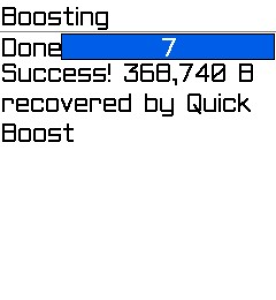 App Name:MemoryUp Personal
App Version:3.5.1
App Size:111 KB
Cost:FREE
Filed Under: Utilities Apps Tags: Oneclick Quick Boosting, RAM Previous Post: SpeakOut
Next Post: Auto Lock – Automatic Screen and Keyboard Lock