MenuBTWifi give you the fastest way to turn on/off Bluetooth, Wifi via BlackBerry Menu
Tired of using Manage Connection to turn of/off Wifi or Bluetooth.
MenuBTWifi help you to solve this problem!
Just add a Wifi, Bluetooth menu to BlackBerry system menu then you can turn on/off bluetooth, Wifi with just one click on your BlackBerry Menu!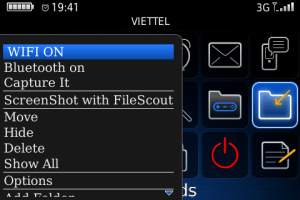 App Name:MenuBTWifi
App Version:1.1.0
App Size:30 KB
Cost:US$0.99 USD
Filed Under: Utilities Apps Tags: Manage Connection Previous Post: Leave It On Free – Backlight util with message pop-ups
Next Post: Silent Finder