MPC SMS Text Scheduler G25 allows you to prepare text messages in advance and schedule them for delivery at any date and time in the future. Messages can be sent to an individual or to everyone in one of your BlackBerry Contact Groups. Delivery times may be selected based on time zone so there is no need to remember time zone differences. MPC Text Scheduler even keeps track of Daylight Savings Time.
Great for: Birthdays, Anniversaries, Promotions, Advance notice for meetings and conference calls, Personal or Business reminders
Text Scheduler integrates directly into your existing BlackBerry Address Book with a new Send Text Later menu item. Simply locate the individual or group in the Address Book to use as the recipient and select Send Text Later from the menu. Scheduled messages are always viewable and can be deleted or rescheduled at any time. Sent messages are logged with the actual GMT time sent and the transmission result.
Features of Text Scheduler G25:
Schedule texts to any single contact hours, days, months or years in advance
Schedule group texts up to 25 contacts unlimited available with upgrade
Time zone automation
Edit or delete scheduled messages
History and status of sent messages
Note: The G25 version limits group texts to 25 group members. Look for other Mobile Phone Cafe,LLC products for larger groups and additional features such as:
Unlimited group members Text Scheduler Pro and G25 Merge Pro
Name and Title merging to help personalize your group messages G25 Merge and Text Scheduler Merge Pro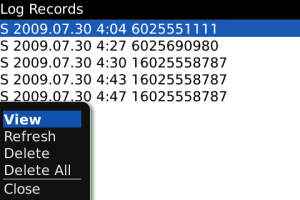 App Name:MPC SMS Text Scheduler G25
App Version:1.7.0
App Size:43 KB
Cost:US$2.99 USD
Filed Under: Utilities Apps Tags: Daylight Savings Time, Mobile Phone Cafe, Send Text Later, Text Scheduler Pro Previous Post: ChildLock
Next Post: AutoLock