The main idea of this app: simple and effective.
I wrote this app and use to save: telephones, list of tasks, my ideas and so on.
I add their search button. So it will be easy to find old notes.
Please write down several words about it.
Your opinion is important for me.
Thanks a lot!
p.s. Several interesting features will appear in next release.
This app only for BlackBerry PlayBook!
New in version 1.6.0:
+ edit already created notes.
+ better interface for adding notes.
+ some bugs were fixed.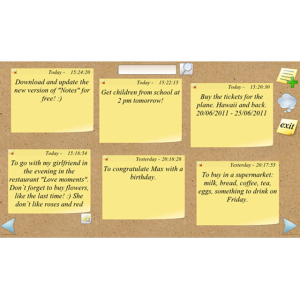 App Name:Notes for BlackBerry PlayBook
App Version:1.6.2
App Size:1076 KB
Cost:US$0.99 USD
Filed Under: Utilities Apps Tags: App Name Notes Previous Post: deUnblock – Quick Password Auto Unlock
Next Post: QR Scan Now