PhonEnforcer is a powerful mobile phone application that turns off the cell phone when the user is driving. This patent pending process enhances driving safety by automatically stopping mobile phone use.
PhonEnforcer is easy to install, set up, and use. Simply download PhonEnforcer directly to your mobile phone and enter your control settings. The mobile phone will now turn off when the user is traveling at driving speed. No more cell phone distractions while driving.
PhonEnforcer eliminates the temptation to answer just this one call or check just this one text.
The PhonEnforcer Hands Free Option/Text Detector package will turn off the cell phone using customized settings. User enters and can change email or text addresses. PhonEnforcer sends messages of activity to these addresses.
User enters the speed at which the phone will be turned off. User can manually turn off PhonEnforcer when the user is not driving for example, when the user is a passenger. User can manually turn on PhonEnforcer.
PhonEnforcer sends messages to the addresses 1 when the PhonEnforcer is automatically turned on, 2 when PhonEnforcer is manually turned off or on, 3 when an email or text address is changed, 4 when the phone turn off speed is changed, and 5 when PhonEnforcer turns off the phone while driving. It is important that you receive message 5 to be sure PhonEnforcer is working properly.
PLUS the cell phone is automatically turned on after PhonEnforcer has turned off the phone. The user sets the elapsed time after which the phone is turned on. PhonEnforcer will continue to turn off the phone if the phone is traveling faster than the turn off speed.
PLUS the user is allowed to operate the phone normally in hands free mode. PhonEnforcer will turn off the phone if Bluetooth is not active or if a headset is not plugged in. PhonEnforcer will also turn off the phone if a text or email is sent.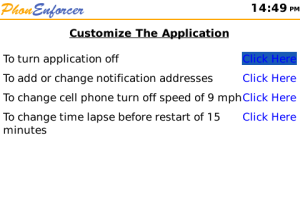 App Name:PhonEnforcer HandsFree Text Detector
App Version:1.0.1.14
App Size:128 KB
Cost:US$8.99 USD
Filed Under: Utilities Apps Tags: PLUS Previous Post: MyGadgets
Next Post: TellMe!