SearchMyApps application gives you the power to search among your installed applications. This works like the new search feature of OS 6.0. This application lists all the application installed in your device. Those can be system apps or third party applications. You can search by application name, or vendor or application description. Everything is indexed in the app so it searches super fast. Now you wont ever need to scroll here and there to find the app you are looking to start.
Type the name or parts of name or parts of description, the application is there, click to launch. Super fast.
SearchMyApps always runs in background to give you ability to search anytime, from anywhere. Also you can delete apps with it.
Application keeps track of your 10 recently launched application and 10 most frequent applications you launched from the app. Just flick your trackball or trackpad right/left to see the list. Storm or torch users, just swipe right or left to see your frequent/recent apps.
TIPS:
You can see the recent or frequent apps by scrolling right or left by trackball or trackpad or swiping with your finger in touch devices.
Features:
Lists all your installed applications.
Search while you type, click and the app starts.
Launch most of the apps from it with a single click.
Search with application name or vendor or description.
Uninstall applications.
List of recent launched applications, scroll or swipe right and you are there.
List of most frequent applications, scroll or swipe left and you are there
See application details.
Simple and intuitive User Interface.
Always there to save your time.
If you liked our application, please leave a nice feedback for the app in appworld.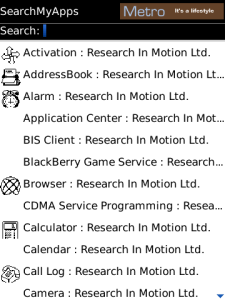 App Name:SearchMyApps
App Version:1.0.0
App Size:193 KB
Cost:FREE
Filed Under: Utilities Apps Tags: OS, User Interface Previous Post: SmartPhones Jamaica
Next Post: A Plus WorldClock Free Trial