This app does not work for OS 4.5 and below on CDMA network.
Please try the trial version also downloadable from www.smsautomobilereply.com before purchasing the app. If you have previously installed other versions of SMS AutoMobile Reply, please delete them before installing the full version of the application.
SMS AutoMobile Reply is an application designed to reduce incidents of texting while driving. Before getting behind the wheel, users can simply turn on the program and not worry about reading or responding to texts. Without the distraction of texting, users can actually pay attention to the road.
SMS AutoMobile Reply is an autoreply application for text messages. Users choose from five preprogrammed statuses driving, at a meeting, at a movie, sleeping, busy or create their own. Additionally, all five status messages are customizable.
Texting while driving is extremely dangerous and has led to many automobile accidents. For this reason, SMS AutoMobile Reply also includes a Parental Lock mode, which allows the application to be locked in autoreply mode for either a set period of time or until a password is provided. If SMS AutoMobile Reply is set to locked mode while driving, ALL incoming text messages will be answered automatically by the application.
Users can also create Profiles, consisting of Groups of people from their contact lists. For example, a user may decide to send out automatic responses to colleagues and acquaintances, or to all incoming messages EXCEPT from their boss or child. Once Groups are created, users may mix and match them to form several different Profile options.
Additionally, users may set the program to notify them of all incoming texts. In this case, users may, on a textbytext basis, choose whether or not to send out an autoreply message. In the Notify mode, users may also customize their automatic reply before clicking the Send button. This option allows users to ignore texts to which they dont want to respond.
Whether youre driving or in a meeting, SMS AutoMobile Reply is a safe and efficient way to avoid the distractions of texting!
Also available in Lite format as a free trial application.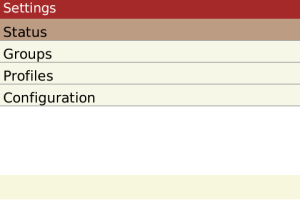 App Name:SMS Auto-Mobile Reply
App Version:1.46.2
App Size:120 KB
Cost:US$4.99 USD
Filed Under: Utilities Apps Tags: CDMA, EXCEPT, Once Groups, Parental Lock Previous Post: File Explorer for BlackBerry PlayBook
Next Post: TracknShield