Smssim is software that detects when your sim card has been replaced by another, sending an sms to a mobile phone number of the SIM inserted in your device. This makes it possible to recover your mobile with all the information you have in your device phone numbers, photos, sms ….
After entering the password and phone number to send the SMS when the SIM is replaced, the program is left selected.
In the menu of the program will see the following options to activate the program when enabled or disabled when not in, change the password or change the phone number to send the sms.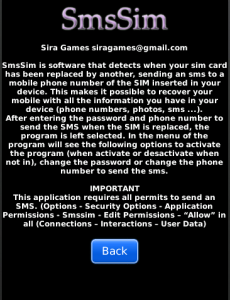 App Name:SmsSim
App Version:2.0.0
App Size:48 KB
Cost:US$0.99 USD
Filed Under: Utilities Apps Tags: SIM, SMS Previous Post: 1 Click Clock – Access BlackBerry Clock
Next Post: WIMM companion