Say hello to the Story Global Dialler and wave goodbye to the expensive international calls and access numbers!
Story Global Dialler is a free BlackBerry App allowing you to make cheap international calls directly from your mobile, without the hassle of dialling the access numbers. It offers the best international rates from over 45 countries worldwide. Story Global Dialler saves you time, money and effort!
Enabling Story Global Dialler on your BlackBerry will only take you a few of minutes. Once you download the App, you will find it in your BlackBerrys download folder.
The Application provides the complete AZ call rate calculator in 3 currencies GBP, USD and EURO, topup Paypal gateway, comprehensive FAQ and support sections.
Enabling Story Global Dialler on your BlackBerry will only take you a few of minutes:
STEP 1 Register
Open the App on your Blackberry you will find it in the download folder
Choose your current location from the drop down list i.e. United Kingdom
Press Register it will automatically open your mobile browser and take you to the Story Global Dialler website. or from a PC www.storytelecom.mobi/register
STEP 2 Topup
You need to have an active PayPal account and have your login details ready.
On the Story Global Dialler Website go to Buy Credit section and fill the required info:
mobile number, topup amount increment of 5 and currency.
Once you confirm your topup by logging in to the PayPal account, you are ready to start making your cheap international calls with story Global Dialler!
STEP 3 Call
Ensure all international numbers are saved in your Contacts in a full format, starting with 00 or +.
After selecting the contact number from your Contacts, press the Blackberry menu button and select Call using Story.
You will see Pausing for 3 seconds on the screen shortly afterwards. Please hold the line and wait to be connected.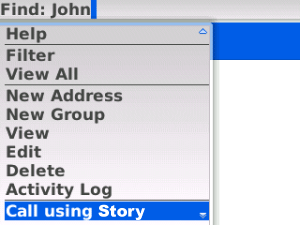 App Name:Story Global Dialler Cheap International Calls
App Version:1.1.0
App Size:35 KB
Cost:FREE
Filed Under: Utilities Apps Tags: Press Register, STEP, Story Global Dialler, United Kingdom Previous Post: Contact Backup
Next Post: Tip Calc