Welspun is proud to offer its first mobile application! The Welspun Pipe App
comes loaded with features that make pipe calculations quick, easy, and from
the convenience of your smartphone. Some of the features include:
Create entire pipeline projects
Create individual project items and save them under a project title Quickly
calculate simple outputs by inputting a Diameter, Wall Thickness, Total
length, and Joint length.
Quick conversion between feet, meters, net tons, metric tonnes for any pipe
size.
Outputs include total weight, volume, number of joints, weight per joint,
and more!
View nominal pipe size table to determine Real pipe diameter.
In addition to the pipe calculations, you can estimate the number of trucks,
railcars, barges, and vessels for each item.
Have access to all the latest Welspun News via the New Feed Lets you inquire
about the pipe items you create directly from the App.
Ability to contact us via phone or email Have any suggestions for what you
would like to see added? Feel free tell us what you think by using the
Feedback tool.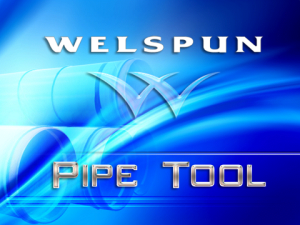 App Name:Welspun Pipe Application
App Version:1.0.0
App Size:919 KB
Cost:FREE
Filed Under: Utilities Apps Tags: New Feed Lets, Wall Thickness, Welspun News Previous Post: ArcotOTP
Next Post: WIFI Remote Screenshot