Automatic Updates! Stay up to date with every change in the application with automatic sensing of new versions no cost to user. The system will notify you a new version has been published and will give you the option to download now, or wait until it is more convenient for you.
Note: Version 3.0 of the WHMIS application still maintains all high quality videos, broken down by category for your convenience.
The new videos deliver the lifesaving information in much better detail for your Blackberry. In addition, the menu system now lets you go straight to categories quickly and easily, or view the whole course in its entirety.
RediVideos WHMIS application for BlackBerry is a complete audio/video training course, instructed and demonstrated by certified WHMIS trainers and displayed in high resolution video right on your BlackBerry. Learn all of the information in the Workplace Hazardous Materials Information System that is required by the majority of Canadian industries.
You do not purchase fire insurance because you think your house will burn down, but for the peace of mind knowing that you are prepared. Think of the confidence you will have with this application at your side that may in fact save a life!
The WHMIS application is divided into two sections:
1. The complete training course includes all of the information about WHMIS in crystal clear video with audio narration.
2. The Symbols and Classes section allows you to quickly reference specific symbols you see on industrial products so you can immediately know what the dangers are for that product.
As an industrial worker or safety officer, this application offers you the ability to take a complete WHMIS course with you wherever you take your BlackBerry. It also has the following benefits:
Can be replayed as many times as necessary to understand the content in preparation for taking a certified course;
As WHMIS regulations change, this application will be updated and you will be emailed so you can download the new content free of charge;
No need to carry around bulky manuals or training material, or remember where they are stored;
Your phone offers a built in light source, so you can reference WHMIS information in the dark or in poorly lit areas.
RediVideos also offers complete Standard First Aid Training and Watercraft Safety Courses. Please see our other apps in App World by typing redivideos , redimedic , or redimedic into the search box. Or, visit redivideos.com for more information.
Requirements:
An SD media card with at least 100 MB free is required in order to download and use this application.
About RediMedic:
RediMedic is a North American manufacturer of custom and professional emergency kits for over 23 years. During this time our kits for adventure, disasters, and war zones have been shipped throughout the world. Over four years ago to promote awareness about public safety and health, we teamed up with professional first aid instructors to create these audio/video series to include with our kits. The overwhelming positive response we received prompted us to release the series as applications for your BlackBerry.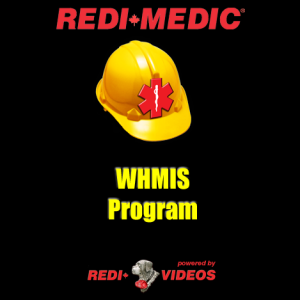 App Name:WHMIS Training Course and Reference
App Version:3.0.0
App Size:245 KB
Cost:US$14.99 USD
Filed Under: Utilities Apps Tags: App World, North American, Note Version, WHMIS Previous Post: TracknShield
Next Post: FAMOC Remote Access