Multiple Alarms, World Clock, Countdown Timers and StopWatch all rolled into one! With a clean and beautiful user interface this app brings the unified functionality of iPhone Clock on your BlackBerry too :
Features :
Multiple Alarms : Set daily, weekly or custom alarms.
World Clock: Lookup time from over 500 cities across the world!
Timer: Multiple countdown timers for quick alarm while you take that 10min break!
Stop Watch with Lap Timers and ability to email the results.
Multiple Profiles for different sound notification needs.
We would also like to invite you to try our other apps. Some of them that you will love are : Empower Threaded SMS, Secure Photo, Battery Saver, Call Notes, SMS Counter, Lock Facebook for BlackBerry, Voice Reminder and Lock for BlackBerry Messenger. You can find them in BlackBerry AppWorld by searching on vendor name Ajani Infotech.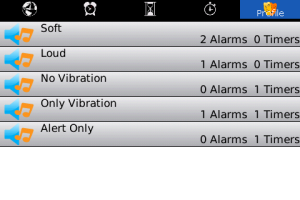 App Name:World Clock Multi Alarm Stopwatch Lap Timer and Countdown Timer
App Version:2.60.0
App Size:722 KB
Cost:US$2.99 USD
Filed Under: Utilities Apps Tags: Countdown Timer, Countdown Timers, Multiple Alarms Set, World Clock Lookup Previous Post: CipherConnect Demo
Next Post: Compass