Are you a business person? or Most of the time are in traveling? Or Do you want to know the current time in different cities at a time? Or Are you looking any application that will show the current time for a particular city? Then this app for you.
This application works completely works in offline. By default this application will support more than 200 famous locations.
Using this application you can add custom location and corresponding time zones.
You can edit and delete the predefined clocks at any time.
Using this application delete the clock from the home screen at any point of the time.
For quick view you can also search clock by location and you can also view the current time for a selected location.
By using this application you can view 10 clocks at a time in home screen.
This application is works very fast and accurate.
This application does not have any boundaries. Using this application add unlimited locations.
Using this application you can search customized locations, and predefined locations.
Beautiful analog clock is now available in BlackBerry PlayBook.
Get full version and get all Features.
Please purchase full version and encourage us todo more useful apps.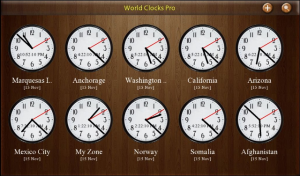 App Name:World Clocks Lite
App Version:1.0.0
App Size:1288 KB
Cost:FREE
Filed Under: Utilities Apps Previous Post: Electric Calculator
Next Post: MortgageCredit Card Calc