X search enables you find out musics, pictures, apps and handle them in your phone speedily!
Now, you could try this powerful engine, only need to enter the keywords of the file name and do Search, all matched results will list out!!!
Features:
1. Fast, fast search and launch it directly, when you searched the item you need, then you can launch it or open it.
2. Easy to operate, you only need to enter what you want to search and go; 3. Hot key X to launch X Search directly;
Tips:
1. Before search, please select the type of files you want to search, All means the files which is not belong to app, such as txt, jpg, mp3… files.
2. Not support SMS, Email, and hidden files.
3. OS 6 models can use this app as well, but we recommend you use inbuilt universal search function.
But its really super on OS 5.0 and below models.
We change the version number a little bit higher ONLY due to changed price into Paid. Buy us with the reason:
&12307; 4+ stars comments and more than months giveaway
&12307; Support us via business and shop with us; we still have 10 or more premium apps waiting for explore, search MMMOOO
Guarantee satisfaction:
If you find a bug or have a feedback, kindly write email to us, we can provide revision ASAP.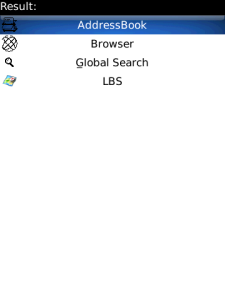 App Name:X Search – Strong n Speedy Extended Search Tool
App Version:1.0.2
App Size:60 KB
Cost:US$2.99 USD
Filed Under: Utilities Apps Tags: ASAP, OS, SMS Previous Post: Clock screensaver
Next Post: Flashlight App