ZenMinder is the popular, toprated alarm clock and reminder application for BlackBerry smartphones. Its easy to use, the sounds are really nice and we have a customer service that will actually respond if you have any questions.
ZenMinder allows you setup multiple alarms to wake up in the morning and is also great if you need get reminded to take your medicine.
Additionally ZenMinder allows to:
Get reminded to pick up the kids
Get reminded to water the flowers every second day
Get reminded to follow a new habit
Schedule important calls
Set alarms to get up in the morning and set reminders to go to bed
Define a personal mission statement and remind yourself regularly
With ZenMinder you can easily set multiple reminders for activities, tasks and other important issues and get reminded by your BlackBerry with a friendly reminder tone. The convenient repeater functionality allows to create recurring reminder that help you establish and maintain new routines and habits.
An overview of the features:
Simple and elegant user interface for a remarkable user experience
Set reminder at a certain date and define recurrences
Four available Zen reminder sounds
Possibility to play custom sound files from your BlackBerry
Unlimited number of reminders
Notification with vibration
12/24 hour time format
Optional autodelete of expired reminder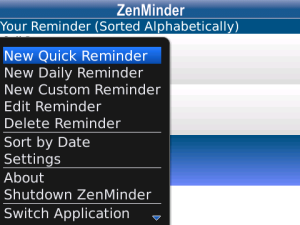 App Name:ZenMinder 2 – Alarm Clock and Reminder
App Version:2.0.2
App Size:413 KB
Cost:US$3.99 USD
Filed Under: Utilities Apps Tags: Alarm Clock Previous Post: SCANnChat
Next Post: Call Notes Live