Developed in response to popular demand, the Noah Bible Study Viewer was the first application to address the needs of the Christian community on the BlackBerry mobile platform in a high-quality, professional manner.
This fully offline solution lets you install and carry any combination of the available Bible translations into your BlackBerryTM, making them accessible anywhere you go, coverage or not. Get public domain Bible translations like KJV, ASV, the Spanish Reina-Valera translation and more for free!
All that for just a single, one-time registration fee of $19.95. We try to make it worth!
Get the Bible in your BlackBerryTM today and enjoy its wisdom any time you want, anywhere you go!
Best of all, you do not have to just take our word for it! Download and preview Noah on your BlackBerryTM now – trial version downloads are free and let you evaluate the application for full 10 days!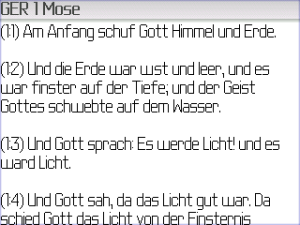 App Name:BEIKS Noah Bible eBook viewer with Luther Elberfelder Bibel in Deutsch
App Version:4.51.0
App Size:3364 KB
Cost:US$19.99 USD
Filed Under: Ebooks Tags: ASV, KJV, Luther Elberfelder Bibel, Spanish Reina Valera Previous Post: Dog Reference for Blackberry Playbook
Next Post: Dynevor Terrace or the clue of life Volume 1 ebook