Berlitz Essential Dictionary English-Norwegian / Norwegian-English is now available for BlackBerry Smartphones.
Authoritative Dictionary Content:
Around 16,000 entries 45,000 references and translations
Both translation directions English-Norwegian-English
Up-to-date vocabulary
For travellers and beginners
Dictionary Features for BlackBerry:
Touchscreen devices support.
Search history lists the last 20 translations.
Hyperlinks between related articles and directions.
Multilingual interface is available in English, French, German, Italian, Russian and Spanish languages
Online update provides over-the-air program updates.
Online dictionary catalog provides one-click access to new dictionaries and the ability to download them directly to your smartphone.
Installation of dictionary database on SD card.
About the publisher.
Berlitz Publishing is the unparalleled language-learning market leader, providing the global community with the skills needed to communicate with anyone, anywhere. Berlitz covers 30 world languages through audio programs, phrase books and dictionaries, and complements this offering with travel guides and maps featuring more than 60 international destinations.
About the developer.
Paragon Software SHDD, the leading developer of multi-platform software applications for smartphones and desktop computers, is glad to present Berlitz Essential Dictionary English-Norwegian / Norwegian-English for the most popular BlackBerry Smartphones running on RIM OS.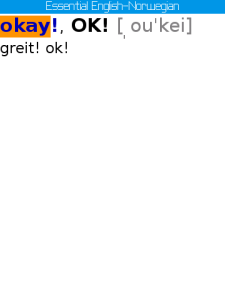 App Name:Berlitz Essential Dictionary English-Norwegian and Norwegian-English for BlackBerry
App Version:1.4.4
App Size:762 KB
Cost:US$14.99 USD
Filed Under: Ebooks Tags: Authoritative Dictionary Content, Berlitz Publishing, Dictionary Features, English Norwegian English Previous Post: The Complete Works of Artemus Ward Part 3 Stories and Romances ebook
Next Post: FreeBooks