Quizmine and RealSimpleEDU.com brings you on-the-go" learning and reference for Business Math
App is continuously updated based on your feedback.
App offers 30 interactive tutorials and 6 quizzes with search feature.
Includes following tutorials:
Introduction,
Percentage And Average,
Fractions And Decimals,
Exponents Profit And Loss,
Measurement Conversions,
Series And Sequences,
Probability,
Permutations And Combinations,
Roots And Radicals,
Polynomials,
Ratio And Proportion,
Measures Of Central Tendency,
Variables And Word Problems,
Variance And Standard Deviation,
Commission And Payroll,
Markup,
Discount,
Simple Interest,
Compound Interest,
Mortgage,
Insurance,
Taxes,
Stocks And Bonds,
Depreciation,
Inventory,
Geometry,
Charts And Graphs,
Line Slope And Equation,
Graphing Linear Equations,
Trigonometry.
Our Vision: Provide on-the-go references that enable our customers to refer, learn and remember; easy to learn, more engaging and most complete.
Our Mission: A Quizmine and RealSimpleEDU app in every pocket.
Please write to us. We would love to improve this app.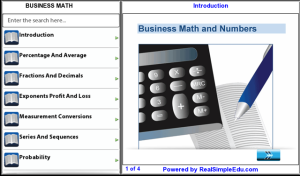 App Name:Business Math for BlackBerry Playbook
App Version:1.0.0
App Size:15840 KB
Cost:US$1.99 USD
Filed Under: Ebooks Previous Post: Dawn of Love part1 ebook
Next Post: Death of WCW The ebook