Collins Easy Learning Malay Bahasa Malaysia Dictionary is an up-to-date, easy-reference dictionary, ideal for learners of Malay and English of all ages. Collins Easy Learning Malay Dictionary is designed for anyone of any age who is starting to learn Malay or English. The entries cover everyday English and Malay including all essential set expressions so you can be sure of having all the vocabulary you need.
The Foremost Authority on the Language of Today
* Get it right: all the words and phrases you need in Malay and English
* Get there fast: the fast search takes you quickly to the words you want
* Colour layout helps you find what you are looking for quickly and easily
* Have confidence: translations shown in examples to show you how to really use Malay and English
Words are tools for life. And a Collins Dictionary makes them work for you.
The MSDict Dictionary Format
The dictionary is powered by the MSDict technology especially enhanced with the following key benefits:
* Quick dynamic search of words while you type
* Transcriptions facilitating pronunciation
* Fully optimized to support touchscreen devices
* Hyperlinks between different related words
* Support for memory cards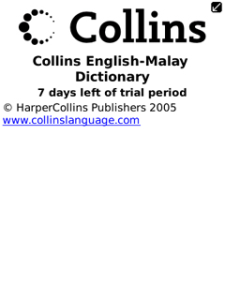 App Name:Collins Malay Dictionary
App Version:7.1.0
App Size:278 KB
Cost:US$9.99 USD
Filed Under: Ebooks Tags: Collins Dictionary Previous Post: Good Vibrations Coast to Coast by Harley ebook
Next Post: Joshua — Complete ebook