But why did it have to happen to us? Because he was a Siamese, of course, with his own ideas on things
Doreen Tovey enchants us again with stories of life with her husband Charles in a West Country village, where they are driven to distraction by Siamese cats, Annabel the donkey, nesting swallows, bucking horses, and the villagers who still regard them as inept townsfolk, even after 18 years.
In an effort to get away from it all, they take a trip to Canada to see the bears and wolves much to the alarm of Father Adams and Miss Wellington. If they cant handle Siamese cats, how will they handle a grizzly? However, after hearing what the villagers have been up to in their absence, they wonder if they might have been safer in Canada.
As for the cats, Seeley and Shebalu start acting strangely when they develop a taste for dog food. But it is time for another solemn little Seal Point to come into their lives who takes some settling in.
fiction,novel,classics,literature,bestseller,Magazine,ebooks,ebook,books,book,the books,the book,Coming of Saska, The, Doreen Tovey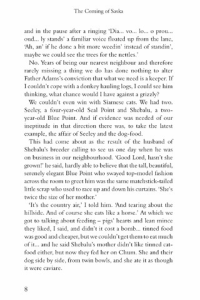 App Name:Coming of Saska The ebook
App Version:1.0.0
App Size:1562 KB
Cost:US$13.99 USD
Filed Under: Ebooks Tags: Canada, Seal Point Previous Post: Burton's Legal Thesaurus
Next Post: Die Wahlverwandtschaften ebook