Quizmine and RealSimpleEDU.com brings you "on-the-go" learning and reference for "Dogs".
App offers interactive tutorials with search feature.
Includes following tutorials:
Basenji,
Belgian Shepherd,
Border Collie,
Border Terrier,
Boston Terrier,
Brittany,
Canaan Dog,
Chesapeake Bay Retriever,
Chihuahua,
Dalmatian,
Finnish Spitz,
German Shepherd,
Greater Swiss Mountain Dog,
Hamiltonstovare Incomplete,
Ibizan Hound,
Lhasa Apso,
Lurcher,
Miniature Schnauzer,
Newfoundland,
Norwegian Lundehund,
Nova Scotia Duck Retriever,
Petit Basset Griffon Vendeen,
Pharaoh Hound,
Rhodesian Ridgeback,
Shetland Sheepdog,
Staffordshire Bull Terrier,
Tibetan Spaniel,
Toy Manchester Terrier,
Welsh Corgi,
Tibetan Spaniel.
Our Vision: Provide on-the-go references that enable our customers to refer, learn and remember; easy to learn, more engaging and most complete.
Our Mission: A RealSimpleEDU app in every pocket.
Please write to us. We would love to improve this app.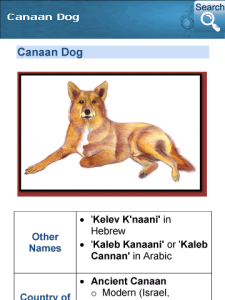 App Name:Dog Reference
App Version:3.0.0
App Size:6146 KB
Cost:US$0.99 USD
Filed Under: Ebooks Tags: German Shepherd Previous Post: Under Western Eyes ebook
Next Post: English-Lithuanian-English Slovoed Deluxe talking dictionary