Ramadan also Ramadhan, Ramadaan, Ramazan is the ninth month of the Islamic calendar, which lasts 29 to 30 days. It is the Islamic month of fasting, in which participating Muslims refrain from eating and drinking and is intended to teach Muslims about patience, humility, and spirituality. Muslims fast for the sake of God and to offer more prayer than usual.
This year, as our contribution to the society, Fujitsu has developed a mobile utility with the following features:
1. Worldwide Islamic Prayer timing
2. Qibla direction
3. Zakat calculatorEnglish and Arabic version
The utility will allow its users to set prayer timing reminders for a particular day and get alerted at the correct time. Our Zakat calculator gives you the ability to enter values of your earnings and net assets and calculate the payable zakat value.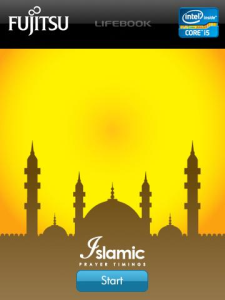 App Name:Islamic Prayer Timings by Fujitsu
App Version:1.1.0
App Size:2051 KB
Cost:FREE
Filed Under: Ebooks Tags: Worldwide Islamic Prayer Previous Post: The Cloud Upon the Sanctuary ebook
Next Post: The Guns of Shiloh A Story of the Great Western Campaign ebook