The most comprehensive topical Bible app! Choose from 70+ emotions organized as 19 major categories and 57 sub-categories. ITalk to God is much more personal and relevant than a random verse generator or a keyword-searchable bible. ITalk to God facilitates a personal and meaningful conversation between you and God.
Tell God how you are feeling today. Depressed? Joyful? Worried? Etc. Then let God answer through His word, the Holy Bible.
Key Features:
- Personalized experience specific to your current feelings
- 70+ emotion categories 19 categories, 57 sub-categories to choose from
- Up to 10 verses specific for each emotion selected
- More than 700 verses total!
- Favorites
- Email share
- App remembers last verse viewed, displays new one
- Encouraging commentary on each verse
Versions supported: NIV, KJV, NKJV, ESV.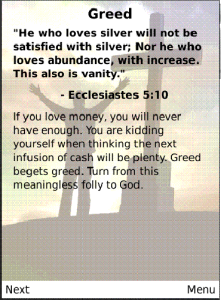 App Name:ITalk to God
App Version:1.0.0
App Size:1819 KB
Cost:US$2.99 USD
Filed Under: Ebooks Tags: Favorites Email, Holy Bible, Key Features Personalized, Tell God Previous Post: Fairy Tales of the Brothers Grimm ebook
Next Post: Memoirs of Casanova Volume 19 Back Again to Paris ebook