Level 10 Comics is the publisher of the very popular Jump
series of comics worldwide. Some of the popular comics from the Jump
stable include Shaurya, Northern Song and the Rabhas Incident. The new
age content from Level 10 Comics immerses the user with their high quality
of graphics and addictive story lines.
The application has been specially designed to capture the essence of comic
reading and replicate the same experience on your BlackBerry PlayBook.
Various comic reading enhancements have been incorporated into the
application.
* All comics can be read in both horizontal and vertical screen modes.
* User can choose to read their favourite comics in a full page mode
just like original paperback versions or can also choose to read the comic
in a frame mode which expands each individual comic frame to a best fit on
the screen size thereby enabling comic aficionados to enjoy each comic frame
in detail.
* To further enhance and immerse its readers, the application also
embeds screen vibrations into each comic. Therefore a comic frame depicting
an action sequence such as a fight/blast/shock etc. can be embedded with
screen vibrations which vibrates the entire comic frame/page thereby further
engaging the readers.
* Level 10 Comics also offers its readers a wide range of comic
content catering to the needs of all age groups and all genres.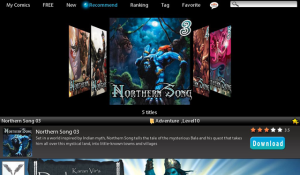 App Name:Northern Song Level10
App Version:1.1.0
App Size:1728 KB
Cost:US$2.99 USD
Filed Under: Ebooks Previous Post: Autobiography of Andrew Dickson White Volume 1 ebook
Next Post: Pavement Arena The Adapting Combat Martial Arts to the Street ebook