Customized Big Owner Info @ Homescreen. Add OWN texts, words, name, slogan at homscreen via smoothy & advanced SVG.
Cases study:
1. Add company name on the homescreen, spice up the belonging and value
2. Add GF/BF/family name on the homescreen, enjoy the sweet at every glance
3. Add passionate slogan, encourage yourself at every glance
Easy to configure:
Customize your content in the Owner Info of Option. OS 6 models, the owner info is at: Display- Message on Lock Screen
For 81, 82, 91 models: press T & E key to Hide or Display Owner Info at homescreen. All the other models press E & W key.
When you change the content of Owner Info, plz pres the above keys to refresh the new content out, otherwise it will stay with former content at homescreen.
Features of MMMOOO theme:
1. A theme is customized covered from A to Z
2. Proved nice in operation and looking, you wont get tired even though in days and weeks
To activate the theme after successfully downloading: Navigate to Options – Theme – Select the desired Theme and activate. To uninstall a theme plz delete it in the application list.
Guarantee satisfaction: MMMOOO welcome your feedback comment, so we can keep leading the tide in art designing of theme. If you find a bug, kindly write email to us, we can provide revision asap, and a bonus free theme as well. Be so kind that dont leave a malicious comment.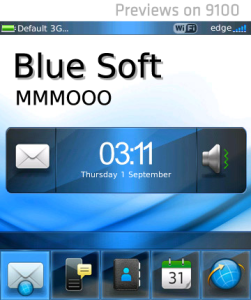 App Name:Abstraction: Soft Blue
App Version:1.0.0
App Size:654 KB
Cost:US$4.99 USD
Filed Under: Themes Tags: Lock Screen, MMMOOO, Owner Info, SVG Previous Post: Gay Pride theme os5
Next Post: Emergency SOS and Flashlight – Live Motion Wallpaper