Celebrate the USA with this fantastic American Dream theme!
**Compatible with OS6 on the BlackBerry Bold 9650/9700/9780, BlackBerry Curve3G 9300/9330, BlackBerry Pearl 9100/9105, BlackBerry Style 9670 & BlackBerry Torch 9800.
BlackBerry OS 6.0 style icons throughout the theme. Home Today screen wallpaper can be changed to anything you like! The Today Plus screen gives you access to your calendar appointments, new emails and texts at the touch of a button. No need to open the apps to see what is scheduled, just touch the home screen and see it all right there.
Icons, buttons and lists are easy to read with well contrasted colors. See the time at a glance with the large numbers on the banners. All icons that BlackBerry allows to be changed are changed to match the themes color scheme.
*PLEASE NOTE: Number of icons on the Today screen varies by model.
***Please check out the screen shots to see the differences between models.***
Features:
*Home Today screen wallpaper can be changed to anything you like!
*Today screen for easy access to your schedule, email and sms/mms.
*Easy to read numeric battery meter using percentages so you know exactly how much battery life you have.
*Simple design for easy use.
*Small file size so your BlackBerry will run as fast as it always has.
*Clean backgrounds so your icons are easy to read without straining.
*Updates are always free!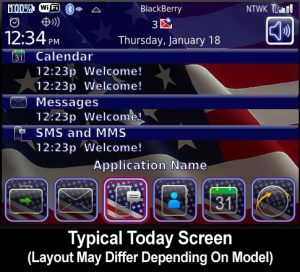 App Name:American Dream Today Plus
App Version:1.6.1
App Size:406 KB
Cost:US$1.99 USD
Filed Under: Themes Tags: American Dream, Features Home Today, Home Today, USA Previous Post: Abstract Glow Balls Theme with Fabulous Aqua Blue Outline Icons
Next Post: Africa