Andre Valentino for BlackBerry smartphones 9700 Themes
This is the Free Themes developed by Portfolioman.com.
BlackBerry OS Supported:
–Minimum OS: 5.0.0 Please check your OS before downloading the theme
–Device Support: "Only for 9700 onyx 1 "
–Language Support:English
Basic Requirements:
Device: BlackBerry Bold 9700 Onyx 1 -running version 5.0
ATTENTION !
Please check your current OS version on your BlackBerry device before downloading.
1. Please check your OS version before downloading this theme
2. It works only for OS 5.0 only ! Support only 9700, It Does not support 9780 , 9800, 8520 !!!
3. go to : OPTION and Select About
Upon finishing the download, it will prompt you to switch the themes. If it doesnt , try going to OPTION – THEME and select the downloaded theme
To Delete The Theme
1. Select BlackBerry App World Icon in your BlackBerry
2. Select " My World Icon " 4th icon on the right
3. Select the new downloaded Theme
4. Press Delete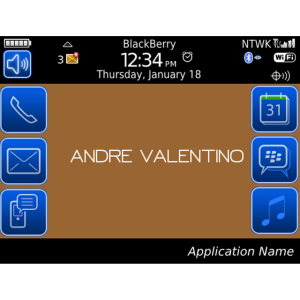 App Name:Andre Valentino™ for BlackBerry smartphones 9700 Themes
App Version:1.0.0
App Size:3023 KB
Cost:FREE
Filed Under: Themes Tags: It Does, OPTION, OS Previous Post: Infinite Time Theme
Next Post: 'The four seasons-Summer' for BlackBerry Bold 9700 Theme