Animated Dandilion in Spring 6.0
Dandilion seeds carried away by the wind.Fly away and free to the blue sky of spring.
tag:dandilion,spring,wind,seeds,blue,sky,
**Plsease check your devices support.
**pls see OS support Sign at the LOGO"***
Features:
1. Hidden Dock with 8 Icons and 6icons for 85xx,93xx
2. white glow icons Set.
3. Background images on all screens.
4. Color scheme to fit menu colors, highlights, profile popup Fonts.
5. BYME – Quick link for more and Free stuff.
Devices support:
BlackBerry Torch 9800 OS 6.0
BlackBerry Bold 9780 OS 6.0
BlackBerry Tour 9650 OS 6.0
BlackBerry Curve 9300 OS 6.0
If you have questions or need tech support
Please contact
bbthemebyme@gmail.com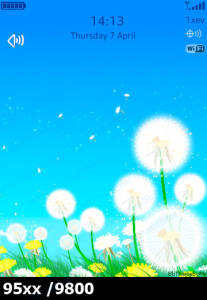 App Name:Animated Dandilion in Spring 6.0
App Version:1.0.0
App Size:468 KB
Cost:US$1.99 USD
Filed Under: Themes Tags: Hidden Dock, OS Previous Post: Sliding n Hidden Theme – OS6 Icons
Next Post: Clown Fish – Themes from Risto Mobile