Animated Glamour Glister MistleToe
Decorate your photos with animated glister Mistletoe frame.
FREE : Free Merry Xmas Piano version
Features:
1. Animated glister Mistletoe photo frame.
2. Hidden Dock for short cut icon set.
3. Xmas ball Icon set icons Set.
4. Background images on all screens.
5. Soft and Cool color scheme to fit menu colors, highlights, profile pop up Fonts.
6. BYME – Quick link for more and Free stuff.
VERY IMPORTANT- please check your devices support list below before DOWNLOAD.
Please Note : OS 6 is now available for BlackBerry Torch 9800 OS.6 ONLY***
Devices support:
BlackBerry Torch 9800 OS 6.0
BlackBerry Bold 9700 OS 5.0
Bold 9000 OS 4.6
Bold 9000 OS 5.0
BlackBerry Tour 9630 OS 4.7.1
Tour 9630 / 9650 OS 5.0
BlackBerry Storm2 9550 OS 5.0
Storm2 9520 OS 5.0
BlackBerry Storm 9530 OS 4.7
Storm 9530 OS 5.0
Storm 9500 OS 4.7
Storm 9500 OS 5.0
BlackBerry Curve 8900 OS 4.6.1
Curve 8900 OS 5.0
Curve 8350 OS 4.6.1
Curve 8530 OS 5.0
Curve 8520 OS 4.6.1
Curve 8520 OS 5.0
Curve 9300/9330 OS 5.0
If you have questions or need tech support
Please contact
bbthemebyme@gmail.com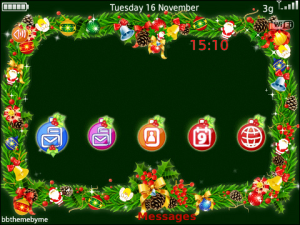 App Name:Animated Glamour Glister MistleToe
App Version:1.0.0
App Size:647 KB
Cost:US$1.99 USD
Filed Under: Themes Tags: Hidden Dock Previous Post: Magical Flowers
Next Post: Whirling Energy – Live Motion Wallpaper